Grant's Interest Rate Observer

The brief
With over 35 years of expertise, Grants Interest Rate Observer offers subscription-based editorial products to bring a range of market analysis to it's audience, whether that may be macroeconomic analysis or security analysis, the long side of the market or the short. Our team was asked to re-design it's existing website to create a seamless user experience that efficiently encourages PQL conversion upon site entry.


The challenge
Founded by the famous Jim Grant, Grant's repository dates back to 1983 and was fully archived on the website. The challenge ahead of us was to design a system that allows the user to generate relative content quickly in various categories including conference, publication, and podcast archives, while not distracting them from the goal of subscribing to the product.
The opportunity
With the number of email users to soar to 4.6B by 2026, and an estimated 509.1M podcast listeners by 2024 worldwide (Statista), there is opportunity to reach younger audiences at multiple entry points to the site as Grant's diversifies its product offerings and looks to a new generation of subscribers..
The solution
We created a seamless user experience, bringing subscription opportunities to the forefront of each page, efficiently displaying buying options, and architecting a strategic archival system for relevant categories allowing the user to sample products when wanted, and not be distracted when needed.
The results
Our team delivered a website made to grow – driving engagement and yielding a higher conversion of subscribers. This also included building a repository system that can easily grow as Grant's archives grow, and a brand system that has now expands to foster not just a website, but also an app for both IOS and Android markets.
Maintaining a legacy design system.
Working with the cartoonist on staff, it was important as we refresh the site's branding to maintain its signature illustrative style, conceptually playing on Grant's unique, character-like writing style.
Over half of the websites users are over the age of 50.
We created a simplistic brand designed to be accessible by middle-age to older audiences, yet still modern to appeal to incoming, yonder audiences.
20,000+ ADG subscribers.
As markets fluctuate, so do users. During economic downturns Grant's tends to see a rise in users. We built out a new marketing email template making a synopsis of Grant's efficient and easily accessible, especially in times when users trust their analysis the most.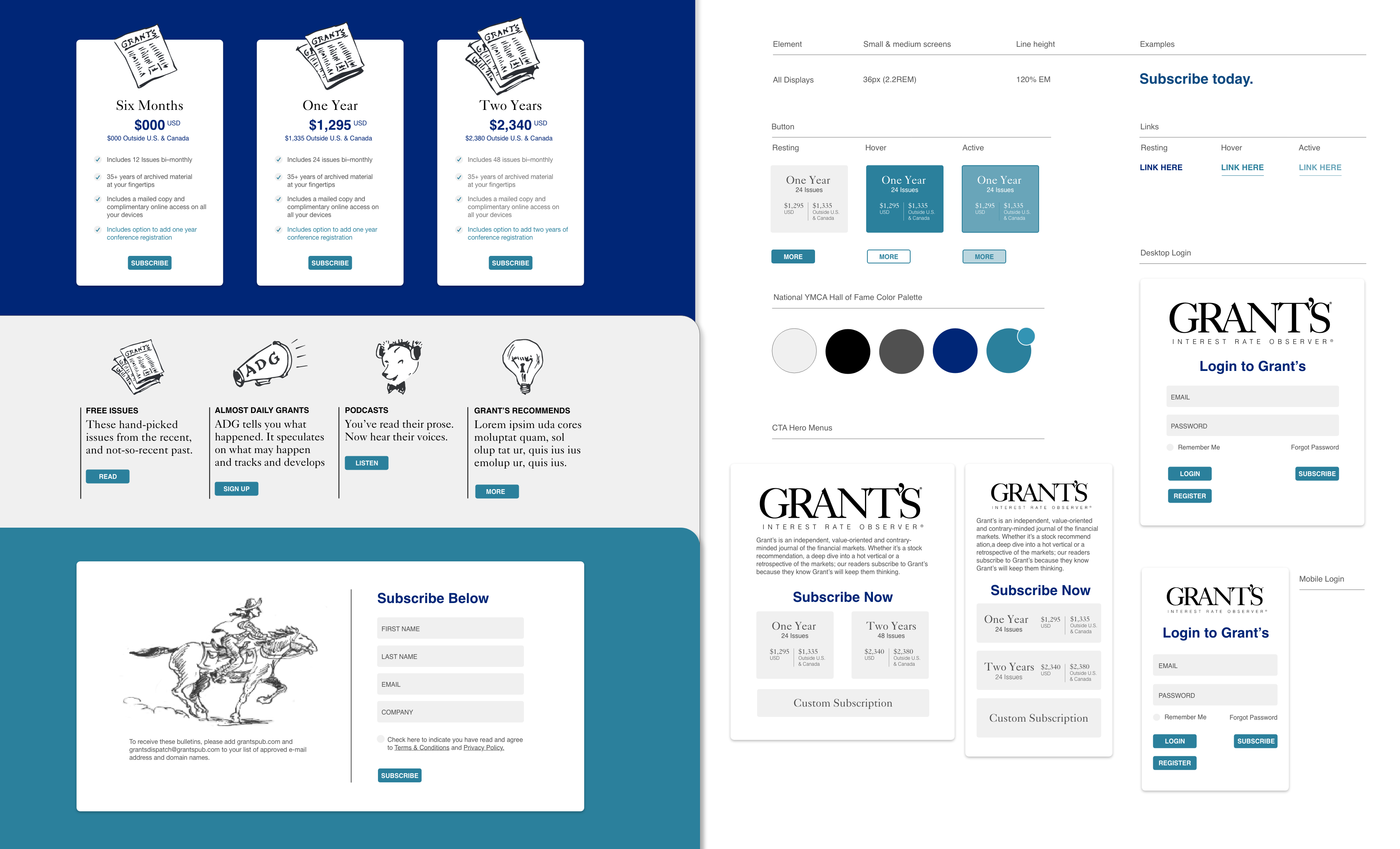 Art Direction, Web Design, UX Design, UI Design, Art Direction
Design Team: kor group, MB Jarosik, Doug Rickert, Brittany Latham
Development: SkyWorld