National YMCA Hall of Fame
Hosted by Springfield College
The brief
VerifyMe™ are brand protection and customer engagement experts. They help customers address highly sophisticated counterfeiting and diversion challenges, achieve new levels of engagement to extend customer relationships, and gain high-definition business intelligence throughout the supply chain, to online and in-store purchases. Our team was brought in to refresh VerifyMe's brand – including identity, brand system, and messaging – to better align its position in the brand protection market.
The Challenge
Key stakeholders are made up of three organizations – the National YMCA, Springfield College, Y-Retirement Fund – each with their own viewpoint of the YMCA Hall of Fame brand and story. Our challenge was to not only restructure the site's architecture and to increase user efficiency amidst a large content repository, but to establish a brand that told a synergistic story of its stakeholders and their history.
The opportunity

With 2,650 YMCAs across the USA, 233,000 volunteers, 120 countries around the world served, and $986M in annual Y donations, the margin of opportunity for inspiring future leaders continues to grow.

The solution
We established a brand identity for the National YMCA Hall of Fame that both conceptually references its founding organizations while simultaneously lives independently from them. Under this umbrella, we designed an accessible (WCAG 2.1) website where we increased efficiency by creating a seamless global navigation and digitizing the Hall of Fame's nomination process. We also worked closely with archivists to curate a brand story rooted in historical significance and impact.
The results
"This new website captures the stories, the faces, the history, the legacies, the photographs, and the videos of YMCA servant leaders who have served this global organization for the past 179 years…Today, the National YMCA Hall of Fame is a place of honor, prestige and prominence that all YMCA staff, volunteers and retirees can be proud of!"
Harry Rock, via LinkedIn,
National YMCA Hall of Fame founder


Out of several nominations each year, roughly 10-12 are selected to be inducted into the National Hall of Fame.
Increasing efficiency and curating a more seamless nomination process, we created a digital nomination form that allows users to submit nominations directly on the website. This meets users where they are, allowing them to pause, take a break when needed, and return to their nominations before fully submitting.
The national YMCA movement was established in 1865.
A historical timeline features the history of the Y-movement, Springfield College, and the birth of the National YMCA Hall of Fame to give users context into issues impacting inductees as they were effecting change.
150+ Inductees, 28+ Induction Ceremonies.
Once inducted, the website acts as an archive for displaying inductee biographies and media, as well as a repository for media from past induction ceremonies.
A spirit of 3
A new brand identity pays homage to it's three founding organizations as well as the famous gulick triangle, symbolizing it is at the intersection of community, mind, body, and spirit.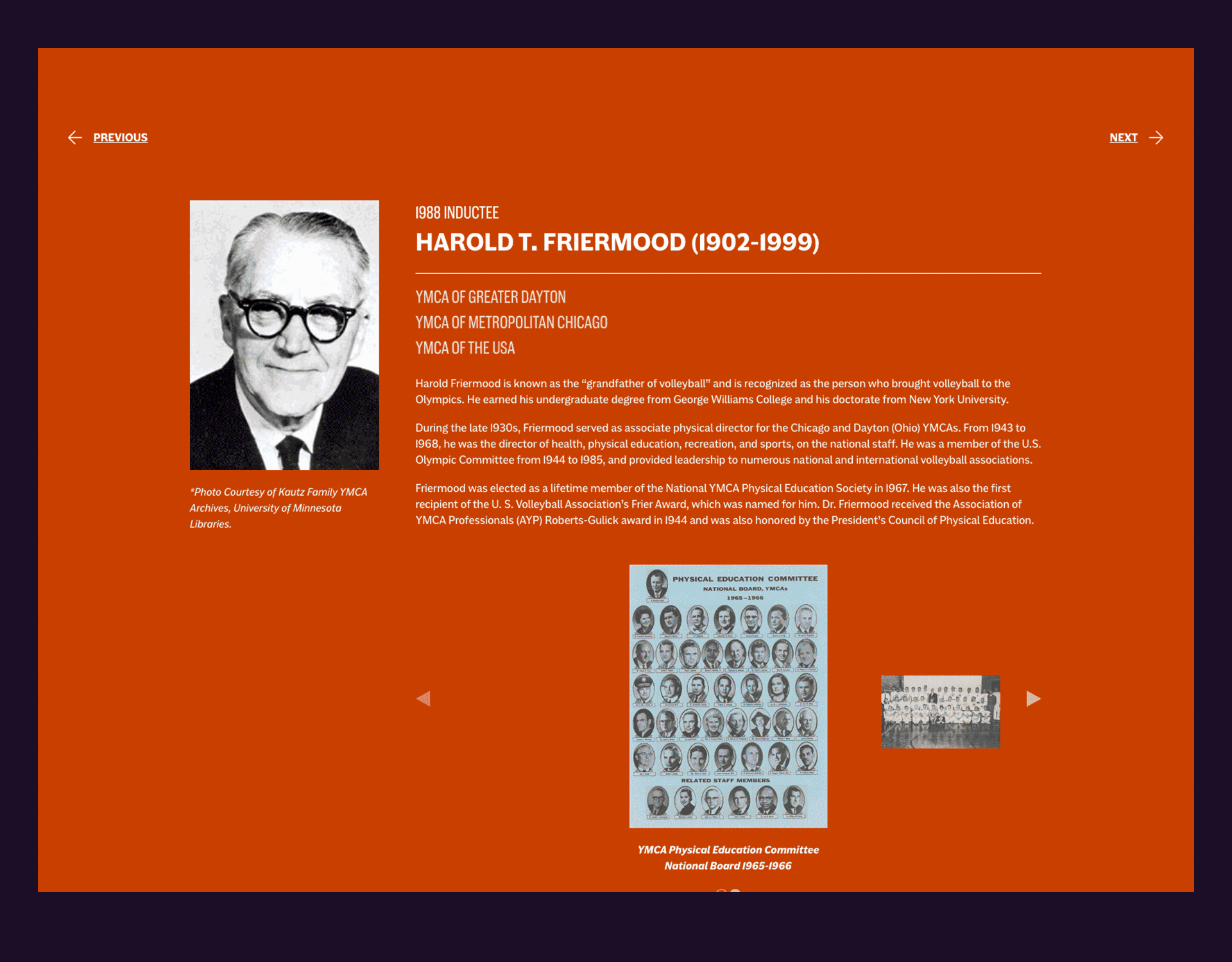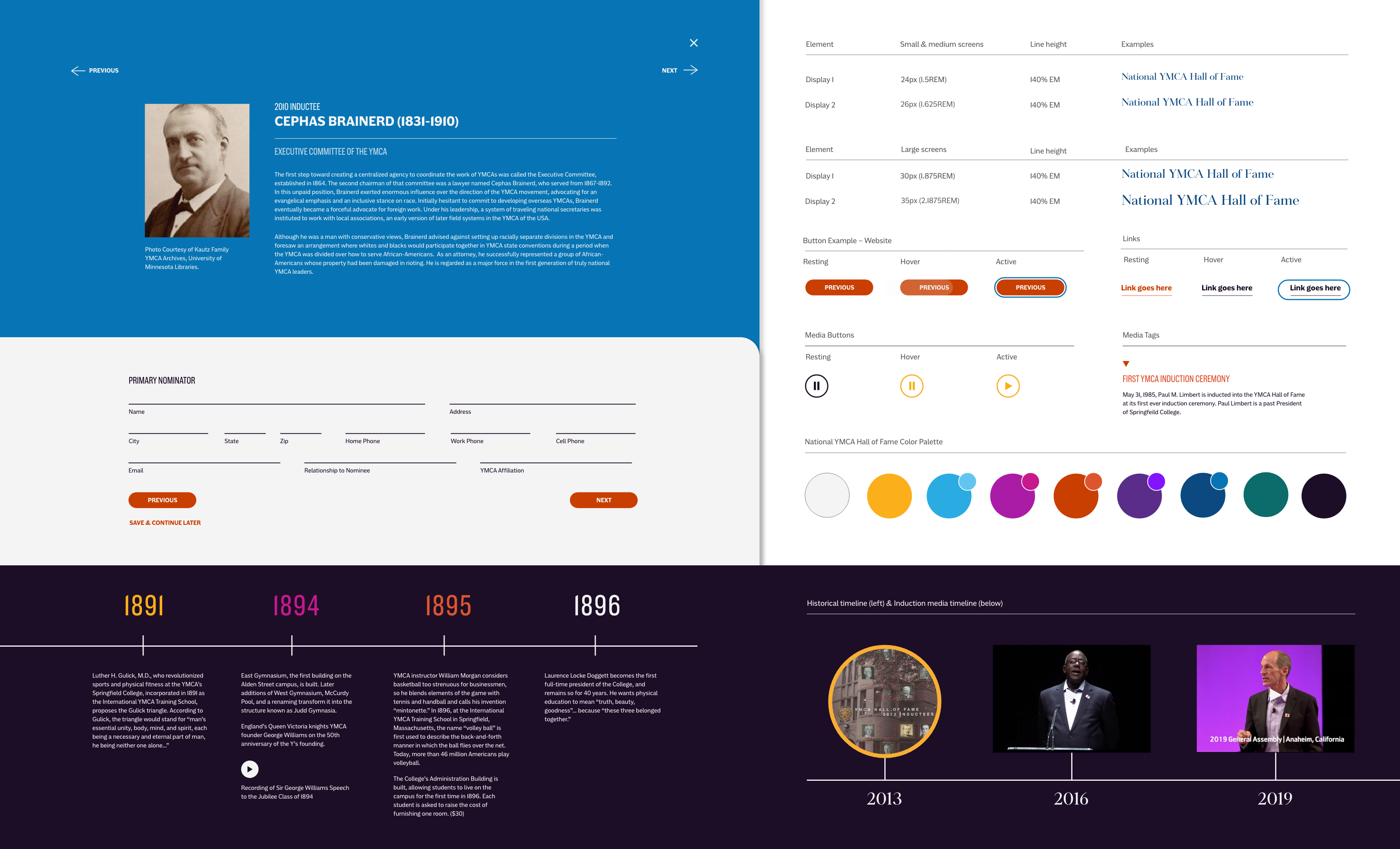 My role: Web Design, UX Design, UI Design, Information Architecture, Content Writing, Art Direction, Identity Design & Branding, Project Management
Design Lead and Art Direction:
Brittany Latham
Design Team:
kor group, ltd, including MB Jarosik
Content Partner:
Scribbling Madly, Brittany Latham
Web Partner:
3 Media Web
View More:
www.nyhof.
springfield.edu