National YMCA Hall of Fame

My role: Web Design, UX Design, UI Design, Information Architecture, Content Writing, Art Direction, Identity Design & Branding, Project Management


Design Lead and Art Direction: Brittany Latham
Design Team: kor group, ltd, including MB Jarosik
Content Partner: Scribbling Madly, Brittany Latham
Web Partner: 3 Media Web
The Brief

The National YMCA Hall of Fame provides a forum to recognize YMCA professionals and volunteers who exemplify a lifetime of commitment to the mission and cause of the YMCA. It honors individuals who have devoted their lives to strengthening the community through their devotion and dedication to serving people and positively impacting individuals and the Y Movement. As the design lead for this project, I worked closely with kors creative director, content writers, and development team to establish a brand identity and elevate the National YMCA Hall of Fame web presence.
Discovery

Over the course of four weeks, we led a streamlined discovery process that included a client team workshop and external stakeholder sessions. These qualitative research sessions included YMCA leadership (C-Level) from across the country, Springfield College Leadership (location hosts), and YMCA leadership alums.
Initial Pain Points



Website is outdated, inefficient, and hard to navigate. Users are unable to navigate global navigation and stay within the site. The overall design distracts and exhausts the user.
Branding is challenging. The current identity is not recognizable to stakeholders outside of being labeled. Messaging and visual design within the web compete against each other rather than elevate each other.
Missing history. As an organization dating back to 1885, there is a lack of storytelling around the organization's historical impact, innovation, and leadership. Many stakeholders also have varying opinions about how this story should be told.
Nominating candidates is inefficient. Nominators submit via email or snail mail, creating an administrative delay.
Users & User Types



Springfield College Administrative Staff (Admin, Editor, Viewer)
YMCA Leadership (Editor, Viewer)
Y Staff and Volunteers (Viewers)
Nominees (Viewer)
Nominators (Editor, Viewer)
Springfield College students (Viewer)
On-Site Hall of Fame Visitors (Viewers)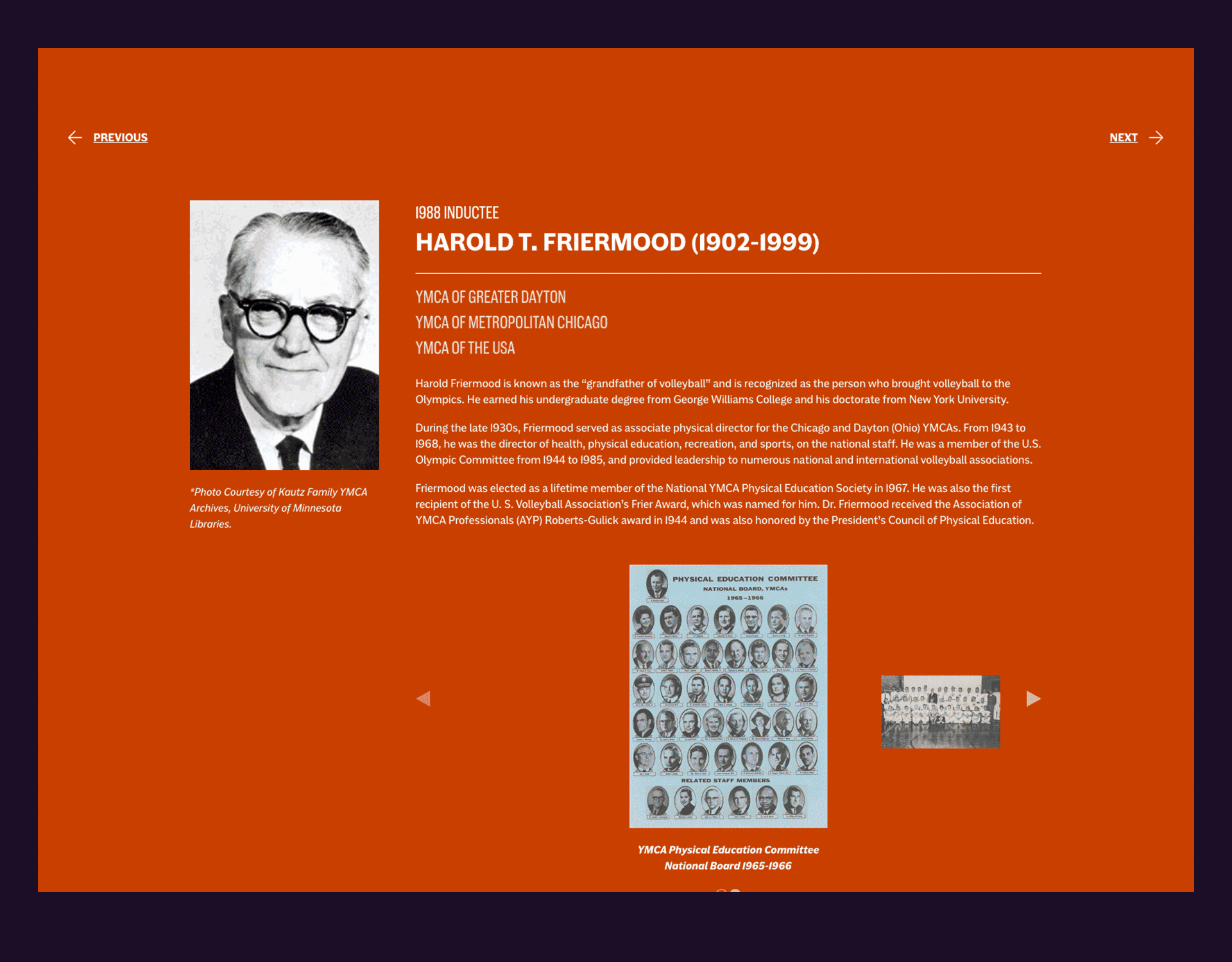 Applied Research Outcomes



A modernized and expanded website celebrates the National YMCA Hall of Fame website. A new identity represents the rich history, honor, and celebratory nature of the National YMCA Hall of Fame. The brand includes vibrant colors, fonts, images, animated graphics, elevated messaging, and content updates.
A website efficient for all. Intuitive navigation keeps users inside the NYHOF URL and is 100% ADA compliant. WordPress CMS and themes are built for adding pages and content. As a result, administrative staff can update the site easily and as needed.
Nominations are digitally streamlined. A digital nomination form allows users to submit nominations directly on the website. This also enables users to pause, take a break, and return to their nominations before fully submitting.
Enhanced features to be turned on or off as needed. Features include an events section and a countdown clock for the nomination deadline.
Working with archivists, a robust history section walks the user through the story of the National YMCA and the Y-Movements impact.
Design Highlights



Animation tells the significance of the Y Movement to users as they enter the site.
The new visual identity compliments the YMCA and Springfield College identities incorporating the "Gulick Triangle" and color palettes.
Imagery tells a story of history and is combined with future-focused testimonials.
Choice of serif typography is selected based on the history of the organization and the historic style of typeface.
The website is showcased on a touchscreen within the on-site YMCA Hall of Fame on the Springfield Colleges campus.
Wireframe (with IA notes attached)